Web Engineering Course
Upcoming Courses
Web Engineering Course - Bilingual [ Tamil & English ]
What do I teach in this workshop?
Experience Web Engineering and Progressive Development like never before. Learn what the Software Industry in 2021 demands. This 30 Day journey will teach you the depth of the role of Web Engineering in Realtime applications,progressive applications and the security infrastructure involved with it. Master and Get practically trained with top notch techinquies in this field
A Live project involved. Certificates are provided.
Course Duration: 30 Days
Course Starting Date: 26 November 2021
Hours per day: 3 hours per day
The course teaches you about
Learn frontend UI development from scratch  to  create dynamic websites,  layouts, and web applications
Skills you acquire: HTML, CSS /SCSS - acquire deep knowledge in Bootstrap 5, practical CSS, jQuery & JavaScript
Learn backend UI with PHP, MongoDB
PHP Multiprocessing & PHP workers
API Development and Ajax Techniques.
Course Fees & Registration Details
Course Price  :   ₹4,500/-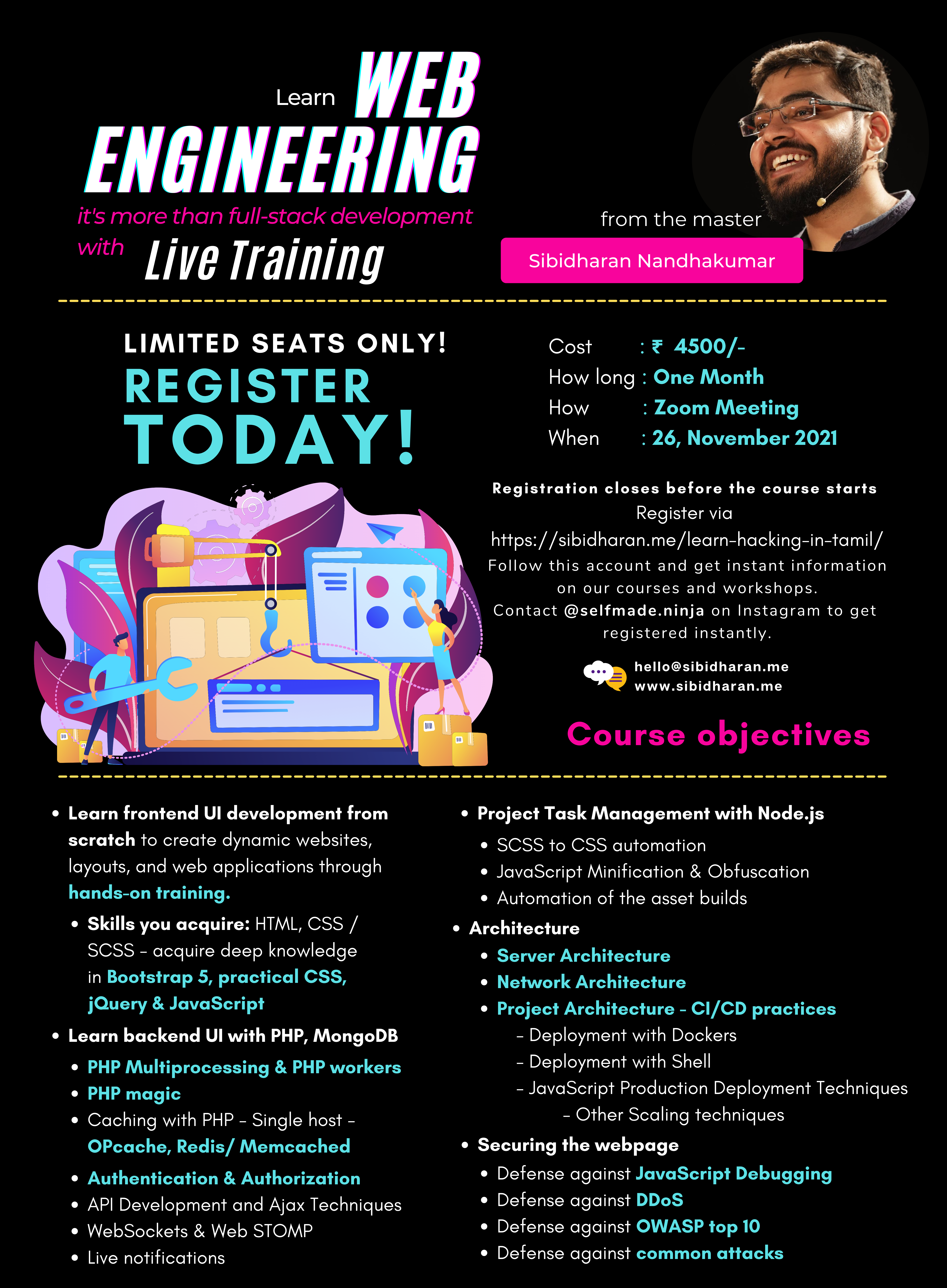 Outcomes of the learning
Be able to understand the concepts, principles and methods of Web    engineering.
You can work independently as a freelancer
You'll get high-paying jobs
Full stack engineering
It helps you become a better problem-solver
Grasping the Web development tools.
Who Can Attend?
Anyone who wants to explore web engineering & development.
Anyone who has prior experience with development & programming.
Anyone with functional understanding of front-end & backend development.
Our Previous Workshop & Courses